BSM Galaxy 1011
The BSM "Galaxy 1011" is a faithful recreation of the whole AIWA TP-1011 tape recorder sound stage, Ritchie Blackmore used from late 1973 until today. This 18Volt unit "Galaxy 1011" contains the AIWA´s mic-preamp, the line output amp, the Marshall Factory mod and it holds a status LED. It is mainly intended for the users of a Marshall Major or clones of this. These are very special amps. With their special circuit design, they are very clean sounding amps and cannot be compared to a normal Marshall Super Lead or similar (pentode design with EL34 power tubes), that sound a bit dirty on their own. So for the real freaks the search for an unaffordable original AIWA TP-1011 could be well over.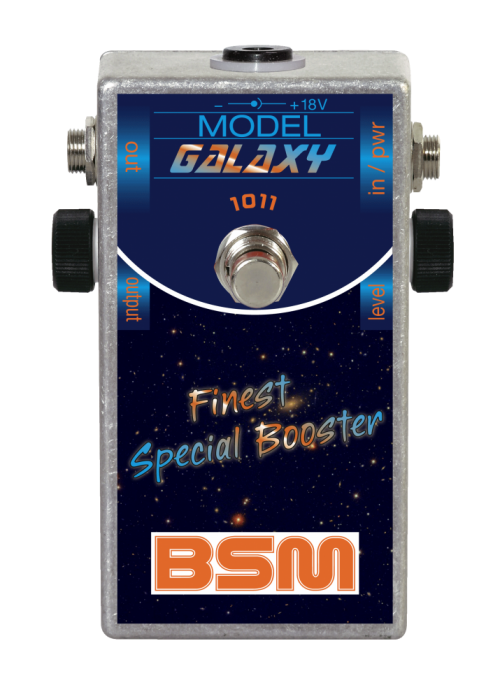 If you have any questions concerning our products, especially the
BSM Galaxy 1011
, our tech-head and mastermind Mr. Bernd C. Meiser would be happy to talk to you. So don't hestitate any longer and send him an email to
info@treblebooster.net
or use the
contact form
to contact him.
Reviews
Aufgrund meiner YT-Videos kam in den letzten Monaten ein Typ aus Youtube auf mich zu, der mir diesen AIWA-Clone andrehen wollte. …… Anm.: Link zu Reverb gelöscht! ….. Habe mich ehrlich gesagt überreden lassen, dieses Teil zu kaufen, einfach aus Neugier... Was soll ich sagen. 300 EUR sind den Rhein runter geschippert... In keinster Weise vergleichbar mit deinem Galaxy 1011, der mir seit langer Zeit sehr gute Dienste leistet. Was mir aufgefallen ist im Vergleich. Dein Galaxy hat die korrekte Marshall-Factory Mod Einstellung und nur so sind die Sounds vergleichbar zu denen Ritchie's die aus dem Amp kommen. Daher möchte ich aus dem Grund nochmal ganz deutlich sagen: Nur dein AIWA Pedal ist das einzig wahre. Es gibt ja noch ein paar andere, aber die mag ich gar nicht ausprobieren. Da höre ich schon in den YT-Videos, wo sie präsentiert werden, keinen Ritchie Sound raus. Sehr enttäuschend. Hoffe, nicht noch mehr Leute fallen darauf rein. Anbei mein neuestes Videos mit deinem Galaxy. Auch Ritchie's Club ENGL Sound von 1997 ließ sich mit deinem Galaxy problemlos nachahmen. Ich werde ggf. nochmal auf dich zukommen, wegen einem weiteren Galaxy als Back-Up. Melde mich da nochmal bei dir. Viele liebe Grüße!
https://www.youtube.com/watch?v=9WfXGxqs7lE
Guten Morgen Bernd, der Galaxy ist das Gerät, was ich schon seit Jahren hätte benutzen sollen. Unglaublich. Es funktioniert übrigens 1A mit einem ENGL über den Crunch Modus. Besser als alle anderen Pedale, die ich von dir habe. Jetzt höre ich wirklich den Sound, den ich schon länger hören wollte. Der Level-Einsteller ist interessant. Kann es sein, dass es von der Intensität her fast genau identisch mit dem originalen AIWA ist? Wenn ich auf 11:30 / 12:00 stelle, beginnt langsam der Fuzz. Wie beim Original. Finde ich super! Der Output Regler ist auch eine tolle Sache - bei geringer Lautstärke am Amp kann ich mir damit ordentlich Sustain schaffen - das war auch eine Sache, die mir bisher fehlte. Wahrscheinlich kann ich den Output bei höherer Lautstärke des Amps auch wieder zurück fahren. Ritchie hat es ja auch meistens nur auf 11:00 stehen; aber er hat seinen Amp wahrscheinlich deutlich lauter. Möchte ja die Nachbarn nicht vertreiben. Die Marshall-Mod (High-Pass Funktion) hat GENAU die richtige Frequenz, sodass ich damit gut arbeiten kann. Der Galaxy hat gegenüber dem Studio und dem RPA deutlich mehr Gain und er ist somit deutlich flexibler. Mit der richtigen Einstellung am Amp und am Galaxy lässt sich beinahe jeder Sound ab 1974 duplizieren. Ich denke für die Jahre davor ist der Hornby-Skewes, bzw. der HS die bessere Wahl, weil die AIWA generiert ja schon einen relativ markanten Ton. Fender Strat -> Lace Sensor Gold Picks -> Spice Box -> Aiwa/Galaxy Preamp -> Marshall oder auch ENGL wie in meinem Fall = perfekte Mischung. Einzigartiger Sound. Danke Bernd. Gruß
Mirko
Everything arrived safely. I haven't gotten to install the spice box yet and compare it to my MTC. The RB looper works as it should and the Galaxy is fantastic. In the future I will order a second Galaxy as a backup.
John C.