BSM V-TB Clean Booster
The fine BSM V-TB, a replica of the old V*X TrebleBooster from autumn 1964, has finally made it from a custom order to a regular model. Roger McGuinn of the Byrds created his 1960´s sizzling "jingle-jangle" trademark sound with the V*X TrebleBooster along with his 12-string Rickenbacker guitar. With the "Bass Boost" switch, the bass frequencies can be raised by +10dB, resulting in a beautiful sparkling tone, Tom Petty and his sideman Mike Campbell comes to mind.
Let´s work out the differences between the BSM V-TB and RMG models. The RMG is based on the V*X treble & bass booster that was released after the V*X treble booster. While the RMG has a pot to fine-tune the high-end, the VT-B has preset shimmering highs and BSM added a bass mode switch with two settings to get a more modern sound in the direction of Tom Petty & the Heartbreakers.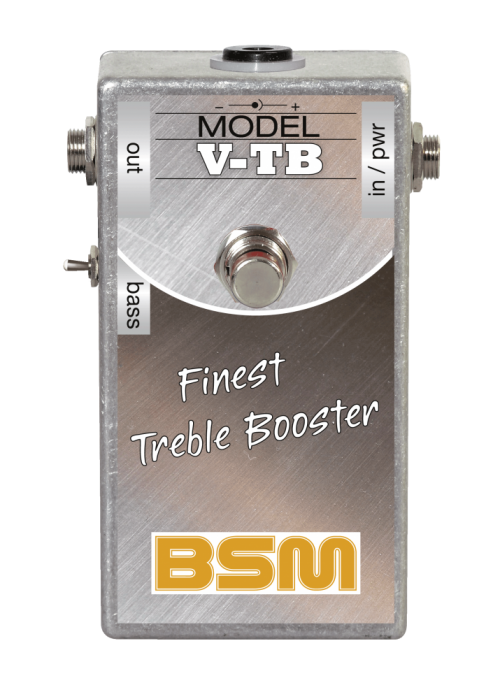 12 string Danelectro + Lipstick pickups + Laney LA30BL amp, direct
12 string Danelectro + Lipstick pickups + Laney LA30BL amp + V-TB
VT - B Geardemo by Haiko Heinz
If you have any questions concerning our products, especially the
BSM V-TB Clean Booster
, our tech-head and mastermind Mr. Bernd C. Meiser would be happy to talk to you. So don't hestitate any longer and send him an email to
info@treblebooster.net
or use the
contact form
to contact him.